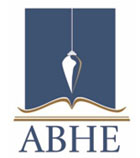 Accreditation Status

Indian Bible College announce back in February 2017 that the Association of Biblical Higher Education awarded IBC Candidate Status in the accreditation process. We have been praying for IBC to obtain an OPEID # in order to receive funding for our students. We are still working on that process.

Indian Bible College is already listed on the websites of both the
United States Department of Education (USDOE) and The Council for Higher Education Association (CHEA) as an accredited school.

This means that we are now able to direct interested individuals or organizations (including tribal chapters) to these websites for proof of our accreditation. Thank you for your support and prayers throughout this whole process!